Fluke2 Product Information

The IPRE Fluke2 is an upgrade to the successful but now outdated original Fluke product. It includes the following hardware specs:
180MHz ARM9 processor
1 Megapixel HD camera
32 MB RAM
2 GB MicroSD flash memory card
Class 1 Bluetooth radio (v2.1 + EDR)
USB host port
Infrared obstacle sensor
Easy to read battery power indicator
Ultra bright LED light
Servo motor expansion port with current sensor
The Fluke2 is fully backward compatible with the original Fluke and uses the same IPRE myro or IPRE calico software. Internally the Fluke2 runs a linux operating system and is designed for easy expandability. A full slackware linux distribution including compilers and standard linux tools is installed on the provided microSD memory card.



Fluke2 Reference Materials
Fluke2 Software

The IPRE Fluke2 is designed to be used with the IPRE Myro or Calico software.
More information on Myro and Calico is available at the IPRE wiki.



Fluke2 New Functionality

The Fluke2 when upgraded to firmware version 3.0.9 supports the following new myro/calico commands. To upgrade your Fluke2 firmware issue the following command in Calico or Myro: upgrade("fluke"). A recent version of Calico or Myro is also required.

setPicSize("small" | "large")


switches the default camera image size between a full 1280x800 pixel frame or a smaller and faster 427x266 pixel frame


servo(id, position)


controls up to 4 servos attached to the fluke2 servo ports. The id parameter ranges from 0-3 with 0 being closest to the bottom edge of the fluke. The position value ranges from 0-255. The servo motor connectors must be attached as in the image below. The connector pinout is GND, Power, Signal with the signal pin closest to the right edge of the board.




Fluke2 Servo Connection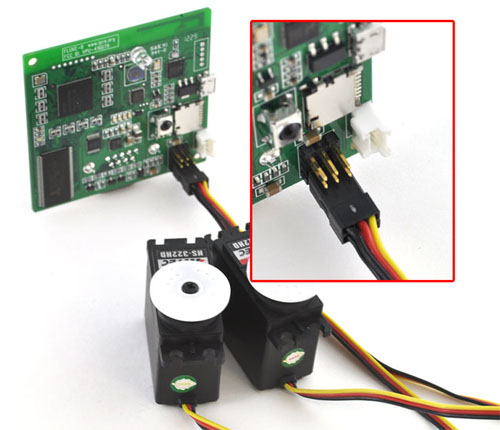 enablePanNetworking()
enables Fluke2 TCP/IP over bluetooth networking using the bluetooth PAN profile. The Fluke2 includes an SSH server that allows for login to the embedded linux system. Follow the instructions below to login to your fluke2 under windows7. If you are using a different operating system please check your OS documentation for how to connect to a bluetooth device using the PAN networking protocol.
goto control panel -> devices and printers
add a device and select the fluke2
start the myro/calico software and connect to the fluke2 as usual
run the enablePanNetworking() command from myro/calico
goto control panel -> devices and printers
remove fluke bluetooth device
add a device and select the fluke2
select "yes" the code above does match the code on the device
highlight fluke bluetooth device
select "connect using" from the menu at the top of the window
select "access point" from the drop down list
the fluke2 is now accessible at the IP address 10.10.0.1
using an ssh client such as putty you can login with username root and password password
Fluke2 Bluetooth SSH Login Demonstrating Embedded Linux Capabilities